Smart Band For Seniors With SOS function
A reliable assistant for anyone who looks after elderly relatives and cares about their health! This smart band will help you to monitor their location and check their heart rate. It offers convenient telephone communication at the touch of a button, which is simple for a person at any age. The owner of the band can easily send you voice messages. Besides, you can turn on several notifications, such as crossing a security zone, lack of pulse data or low battery. You can set an alarm, and use callback and listening modes. Discreet control and care for your loved ones made simple and convenient!
Features:
Location tracking with GPS / LBS / Wi-Fi
SOS button (telephone connection)
Two-way telephone communication
Voice chat
IP67 waterproof
Voice assistant
Handsfree function
Heart rate monitor (with data transfer)
Pedometer
Economical energy consumption
Compatibility with iOS 10.0+ and Android 5.0+
Hypoallergenic strap
This product is not a medical device, its data accuracy may vary. Please do not use metrics it provides in any medical examinations.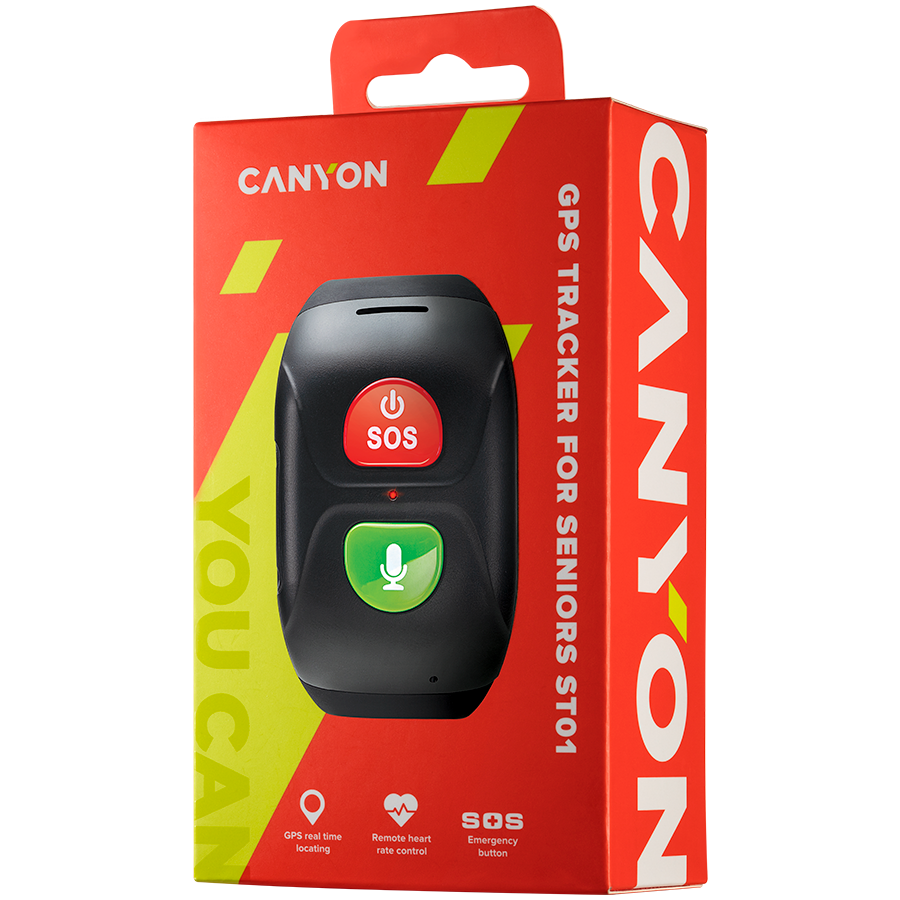 Article: CNE-ST01BB
Proizvođač: CANYON
Series: CNE-ST01
Product Type: Smart Watch
Watch Features: SOS Button
Protection Standarts: IP67
Internal Memory Size: 512 KB
Installed RAM Storage Capacity: 16 KB
Bands: GSM 850/900/1800/1900 MHz
Battery Capacity: 400 mAh
External Color: Black
SIM Card: Single Sim
Requires Operating System: Android
iOS
Depth (mm): 66 mm
Height (mm): 16 mm
Width (mm): 37 mm
Nominal Weight: 0.048 kg
Warranty Products Returnable: Yes
Warranty Term (month): 12 month(s)
Warranty validation Criteria: Serial Number
Pack Length (mm): 76 mm
Pack Width (mm): 41 mm
Pack Height (mm): 130 mm
Pack Weight Brutto (kg): 0.129 kg
Pack Weight Netto (kg): 0.093 kg
Pieces in pack: 1
Box Length (mm): 290 mm
Box Width (mm): 490 mm
Box Height (mm): 336 mm
Box Weight Brutto (kg): 12.05 kg
Retail Packaging Net Weight Carton: 0.036 kg
Retail Packaging Net Weight Plastic: 0 kg
Packs in Box: 88
Package Type: Retail
EAN Code: 5291485006556
Quantity of the boxes per pallet (by air)(pcs): 2816
Dimensions of pallet (by air)(cm): 1160x980x1490 mm
Quantity of the boxes per pallet (by sea)(pcs): 4224
Dimensions of pallet (by sea)(cm): 1160x980x2160 mm